Melodic Intersect is a world fusion band consisting of a revolving group of musicians who are highly acclaimed in their own solo careers.  From world music to rock, Indian classical music, jazz fusion, hip-hop, folk music to established traditional genres.  This is a list of current & past artists who have either played in our albums or have given live performances with us. Go to our discography here: https://melodicintersect.com/discography/
Enayet Hossain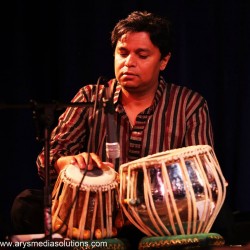 Enayet, born into a prestigious musical lineage as the son and protege of renowned musician Ustad Hamid Hossain in the United States, has carved his own distinguished path in the world of music. His grandfather, the illustrious Ustad Kader Buksh from Murishidabad, India, was not only a distinguished musician but also a revered musicologist.
Enayet's journey into the enchanting world of Tabla commenced at the tender age of six, a passion that has since propelled him to accompany some of the most esteemed musicians, including Ustad Vilayat Khan, Pandit Jasraj, Shujaat Khan, Budhaditya Mukherjee, Salamat Ali Khan, Ghulam Mustafa, Ronu Majumdar, among many others.
His love for music has transported him to various corners of the world, leaving behind a trail of over 50 albums available in diverse digital formats. Acknowledged as a versatile percussionist, Enayet effortlessly navigates through the realms of Indian classical, light classical, and fusion music. His exceptional talent recently earned him the esteemed position of a full-fledged voting member for the Grammy Awards, hosted by the Recording Academy.
Enayet's musical journey also includes being a founding member of Melodic Intersect, a group that he established to explore new horizons in Indian/Jazz fusion and other genres. This initiative reflects his unwavering desire to create music that resonates deeply with his soul. Additionally, Enayet's record label, Aimrec, is a rare gem in the world of Indian classical music, dedicated to preserving this rich musical tradition.
In summary, Enayet's musical odyssey is a testament to his passion, versatility, and dedication to pushing the boundaries of musical fusion, all while honoring the profound traditions of Indian classical music. As a member of the Recording Academy, he also plays a vital role in shaping the future of the music industry by voting in the Grammy Awards.
Greg Hatza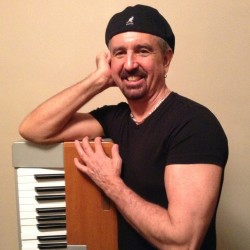 Greg Hatza, a prominent American jazz organist hailing from Reading, Pennsylvania, has left an indelible mark on the world of music. His musical journey commenced at the young age of five when he first tickled the ivories of a piano. At fifteen, he made a transition to the organ, setting the stage for his musical career. By the age of sixteen, Greg was already performing professionally, dedicating four formative years to refining his craft at Lenny Moore's club.
In the late 1960s, Greg Hatza joined forces with guitarist Eric Gale and drummer Grady Tate, resulting in the recording of two full-length albums under the Coral Records label. However, as the 1970s saw a decline in the popularity of the organ, Greg shifted his focus to electric keyboards. It wasn't until the 1990s, inspired by the virtuosity of Joey DeFrancesco, that he rekindled his passion for the organ, making a triumphant return. During this period, he established his ensemble, The Greg Hatza ORGANization, and resumed recording as a leader in the world of jazz.
Beyond his musical achievements, Greg delved into academia. He earned a degree in composition from the esteemed Peabody Conservatory and furthered his education with a Master's degree from Towson State University in Baltimore. His wealth of knowledge was generously shared as he spent many years teaching jazz, piano composition, improvisation, and music theory at Towson State University.
Greg Hatza's musical prowess transcends the boundaries of jazz and the organ. Over more than two decades, he immersed himself in the study of Indian classical music, mastering instruments such as the sitar and tabla. This profound expertise has transformed him into an exceptional fusion artist, actively participating in the world music scene since the 1970s.
Hidayat Khan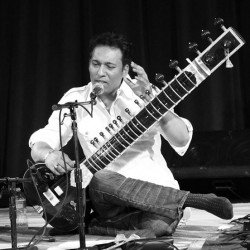 Hidayat Hussain Khan, a maestro of the sitar and a versatile vocalist, embodies the essence of multi-dimensionality. His expertise in the gayaki ang, a unique approach to sitar playing intertwined with singing, showcases his mastery of the art form passed down through generations. His late father, Ustad Vilayat Hussain Khan, belonged to the illustrious "Imdadkhani-Etawah Gharana," a lineage of court musicians renowned for their vocal and instrumental skills.
From a tender age of four, Khan began his training in the gayaki ang, delving into the intricacies of both sitar and voice, as well as composition. His profound knowledge extends beyond mere instrument-playing. Throughout his career, Khan has composed scores for several films and graced countless classical and fusion concerts across the globe. His performances have taken him to Europe, Japan, the USA, Canada, South-East Asia, and his native India. Notably, he has collaborated with esteemed artists such as the Rolling Stones, Alicia Keys, Usher, Zakir Hussain, Pete Townshend, Will.I.Am, Jay Z, and Darryl Jones.
Whether he is interpreting traditional Indian classical melodies or exploring progressive fusion compositions, Hidayat effortlessly adapts to any musical landscape. His versatility and innate talent shine through every performance, establishing his rightful place as a master musician. Furthermore, Hidayat feels at home when playing fusion music, and his active involvement in the world music scene for many years has connected him with some of the most esteemed fusion artists across the globe.
Anjan Chattopadhyay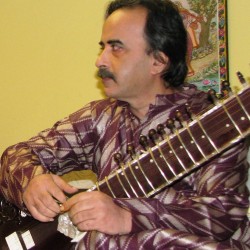 Anjan Chattopadhyay, a maestro of the sitar, was born into a family deeply immersed in culture and aristocracy in Calcutta. Growing up surrounded by the enchanting aura of soft, sweet, and serene Indian classical music, he was nurtured in an environment that celebrated this rich heritage. Anjan's elder brother, Pandit Gourishankar Chattopadhyay, is a distinguished surbahar and sitar player belonging to the esteemed Senia Gharana.
The initial training Anjan received in sitar left an indelible impression on his mind, revealing the profound depth of the instrument's sound and melody. Concurrently, he embarked on his vocal training under the guidance of his elder sister. As he delved deeper into the world of music, Anjan began to perceive the fragrance and pulsation of life within its melodies. This sparked a deep commitment to his musical journey, and he embarked on a rigorous path of advancement in sitar playing under the firm guidance of his brother.
The combination of Anjan's upbringing, the guidance of his talented family members, and his own unwavering dedication paved the way for his mastery of the sitar. He embodies a profound understanding of the instrument's intricacies and continues to carry forward the legacy of Indian classical music with grace and finesse.
Joy Islam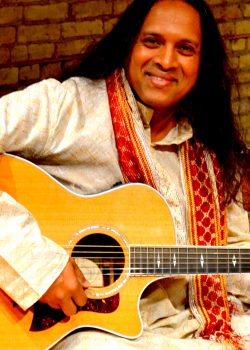 Joy is a native of Bangladesh and has settled in the United States for the last 25 years.  Son of one of the most noted Cinematographers of South-East Asia, Joy has been surrounded with music and films. Joy originally started his journey in music from a rock-n-roll background, Joy was one of the members of a very well known Heavy Metal group in Bangladesh known as "In Dhaka".  He is a superb sound engineer and has mixed and mastered all of Melodic Intersect's albums. He continues to mix and master many different projects in the United States.   His abilities on the guitar are unsurpassed and Joy is able to reach into his knowledge of pop, rock, heavy metal and Indian classical music to bring a new dimension into the Melodic Intersect's roster.  Joy's brings a mellowed, aesthetic to Melodic Intersect and has also the ability to be a soloist when needed.
Hans Utter
Hans' unique guitar style blends bebop, fusion, and classical influences with a wide range of world music elements. His unique musical background combines professional experience in diverse styles including jazz, rock, electronic music, and as well as orchestral composition with over 15 years of performance and study of Indian music. Beginning in 1993, Hans lived in India, studying with some of the great living masters of Indian Classical Music, including Ustad Shujaat Khan, Sharad Shaia, Pt. Indra Lal Dandra, and Pt. N. Rajam. Touring with the group Turkana and Latif Bolait expanded his musical horizons to include Arabic, Persian and Central Asian styles. He performs regularly in the United States, India and Europe and is the recipient of sixteen national and international awards and grants , including the Louis Armstrong Outstanding musician award. Hans has produced many albums and is a well known musician in the world music scene.
Tarun Bhattacharya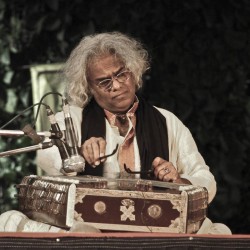 Santoor Maestro Pt Tarun Bhattacharya has been a pioneering and revolutionary musician who has changed the face of Indian classical music, he has been truly an unparalleled music ambassador of India. One of the most celebrated torch bearers of Indian classical music he has virtually traversed the globe many times over performing in some of most awe inspiring venues and cities as Royal Albert Hall, Palace-de-beaux (Brussels), Theater- De-La-Viile (France), Apollo Theatre (Spain), Jubilee Auditorium (Canada), Kremlin (Russia).The mesmerized list of admirers include Prince Charles, George Harrison, Paolo Solaris and many more of respected figures across the Globe.The famous Maihar Gharana's only Santoor Maestro, Pandit Bhattacharya has revolutionized Santoor, the instrument, as well as it's style of play. He displayed for the first time ever (1980) that one could 'meend' or glide notes at the lower octave in a hammered instrument like Santoor. The champion maestro changed the art of playing santoor for ever. Tarun has over 100 cds and dvds released throughout the world.
Saleiman Azizi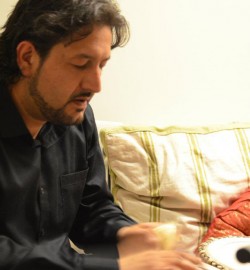 Saleiman is of the most sought after tabla players in the Afghan community.  He received his training on the tabla from Ustad Hamid Hossain, a renowned teacher of Indian classical music based in the United States.  He is an accomplished classical musicians who has accompanied several prominent Indian and Pakistani classical musicians.  Saleiman is one of the preferred accompanist of Afghanistan's legend Ahmad Wali.  He has accompanied all the top tier Afghan musicians and is equally at home playing with classical music, ghazal, folk or lighter music.  He is considered one of the top musicians of his country today.
Avirodh Sharma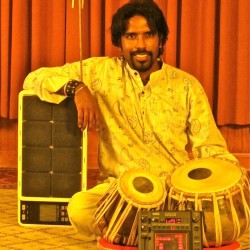 Avirodh Sharma, one of the leading tabla players from the West Indies, incorporates West Indian rhythmic elements with Indian Classical melodic and percussive overtones, making him extraordinary as a percussionist. Trained by his father, Sharma continued his training with tabla virtuosos, Ustad Zakir Hussain and Pandit Anindo Chatterji. His performances have captivated audiences and enthusiasts of all genres of music in India, the Dominican Republic, Bahamas, Trinidad and Tobago, Guyana and the United States. Sharma has also been instrumental in creating "Globalstān™" with the vision to bridge the music of the West Indies, India, and the world in a manner that will transcend time and move the listener into the "space between the spaces" to promote peace and harmony.
Zohaib Hassan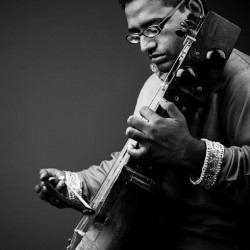 Born in Lahore, Pakistan, to a family of musicians hailing from the Amritsar gharana (School), Zohaib's lineage can be traced back six generations of sarangi players. His ancestors include the legendary Ustad Hussain Bakhsh Amritsari (1894-1984), Ustad Nathu Khan (1920-1971), Ustad Peeru Khan(1918-1995) and Ustad Abdul Hameed Khan(1928-1994). One of the finest Sarangi players today, Zohaib has played in many international festivals as an accompanist and soloist.  Zohaib was invited by the Kennedy center in Washington D.C. in 2013 and has played in the prestigious South by Southwest music festival held in Austin, Texas.